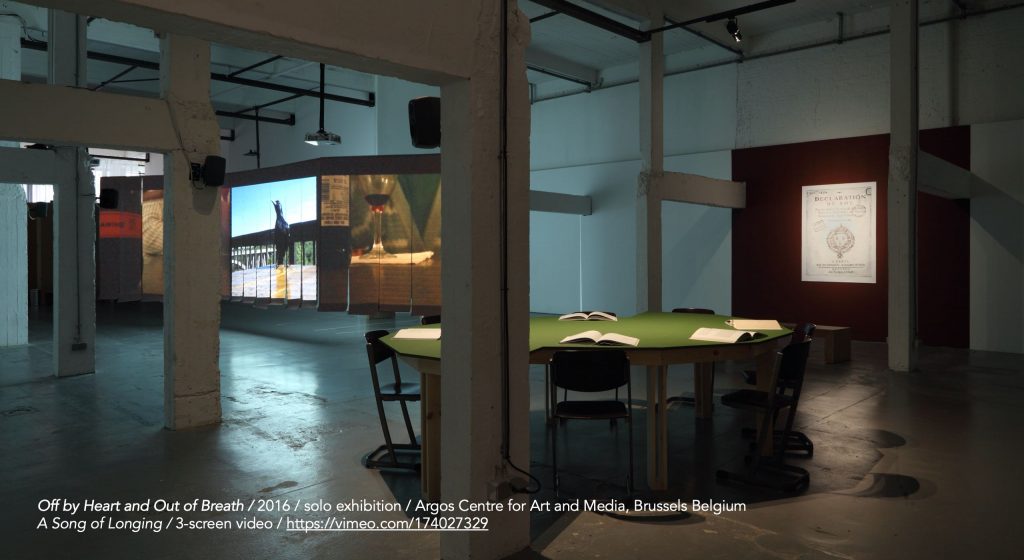 Argos Centre for Arts and Media, Brussels. April 23-June 26, 2016. Text by Rolf Quaghebeur.
To make noise is the prerogative of those with power. Wendy Morris, A Song of Longing
On 18 October 1685, the French king Louis XIV issued the Edict of Fontainebleau, thereby definitively revoking the 1598 Edict of Nantes, which had guaranteed a relative form of freedom of religion in France. It would not be until 1787 before non-Roman Catholics regained the right to confess their religion openly. One of the consequences of the Edict of Fontainebleau was that between 210,000 and 900,000 Protestants fled France and according to the Sun King himself, only some thousand Huguenots remained in the country. The majority of these, who were unable to escape in time, were forcibly converted and ended in the best case at the bottom of the social ladder – but in fact they were more likely to end up as galley slaves. Amongst those who were able to escape, despite patrols on the escape routes and strict border checks for those travelling to Britain, the Netherlands and Germany, were Louise Courbonne, Marie De Gravé, Catharine Maré, Suzanne De Vos, Jeanne Mouy, Claudine Seugnet and Marguerite Perrotette. All of these were young mothers, looking for a safe haven and a new home for their family. They set out from Guïnes on a journey that by way of, amongst others, Calais, Dunkirk, Ostend, Blankenberge, Cadzand, would take them to the Cape of Good Hope in South Africa, which at that time was administrated by the Dutch East India Company. Those who survived the long journey, would find a new home there. In 1994, eleven generations and more than 300 years later, Apartheid came to an end in South Africa and the first democratic elections were organized. After the election, the artist Wendy Morris, a descendant of the ancestral mothers mention above, left her home country – this time not to escape religious or political prosecution, but to settle in Deerlijk, a small place in Belgium near Kortrijk, together with her Belgian husband and children.
Morris is best known for her short animated films, which reflect her fascination with her own origin, with religion and migration, with marginalized and forgotten history. These themes are also at the heart of the exhibition Off By Heart and Out of Breath. A Silva Rerum. At the base of this exhibition, there is however not an animated film, but the eponymous artist's book.
In 2014 Morris literally followed in the footsteps of her ancestors, Not only did she hope to find traces of them in their native villages, but she also wanted, like they did 300 years earlier, to walk the long road from Guïnes to Vlissingen. Soon she came to realize that almost all tangible traces had been forgotten and were irreparably lost. Yet she decided to continue focusing on the absent: the abandoned plot between two buildings where once the home of a preacher had stood, weeds along the road, which are now useless, but which in the seventeenth century had been used as food, as a basis for ointments to cure injuries of the feet that had been caused by the endless tramping, as well as sounds, smells, …
Morris wrote down her experiences and thoughts in a diary, and every day she wrote a dispatch, which she sent by mail to herself, but also to some twenty address- es in South Africa, Belgium, France and the Netherlands. By constantly registering events and, during her walks (out of breath), constantly, in an almost ritual manner, reciting and memorising (off by heart) her genealogy, she transformed the walk not just in a lonely homage to her ancestors, i.e. to those who are absent, but in a metaphorical sense, she also got to know them better. It enabled her to tell their story—not so much the historical narrative, but the sort of story to which Orhan Pamuk refers in his museum manifesto, where he writes, "We all know that the ordinary, everyday stories of individuals are richer, more humane, and much more joyful." But Morris wanted to go one step further. She not only looked for a way to tell the story of the past, the story of individual families, of strong women on the run and looking for a new home, but she also looked for a way to pass on these stories—stories of an absence—to future generations. She wanted to create a Silva Rerum for her ancestors.
The Silva Rerum is a literary genre that goes back to ancient Rome. It was very popular in seventeenth-century Poland. Silvae were books that were passed on from generation to generation, while each generation made its own entries. The books contained the knowledge that was deemed necessary to be passed on to future generations: recipes, farmers' tips, poetry, genealogical information, etc. Many Silvae vanished when the Nazis destroyed entire libraries during their occupation of Poland.
At Argos, the entire exhibition aspires to function as a Silva Rerum that is complementary to the artist's book—an exhibition made in the here and now with the aim to share with a future generation an experience of a past that is lost and that was never known.
Rolf Quaghebeur, curator.
———————
In the summer of 2014 Wendy Morris walked from the north of France to Vlissingen in the south-western Netherlands, looking for traces of her ancestors, who in the seventeenth century took this route to escape religious persecution; eventually, they were to find a new home in South-Africa.
In Argos, Morris wants to take the visitor along on her quest for these (mostly absent) traces of her ancestors, while at the same time she seeks to raise questions about themes that are still very relevant in our times, such as migration, persecution and identity. The exhibition is based on an artist's book that is published on the occasion of the exhibition. Both depart from the idea to create a Silva Rerum for the elder generation, as well as for future generations—a book these future generations will pass on and to which each generation will add its contribution. The book as exhibition, but also the exhibition as book. The first part of the title Off by Heart and Out of Breath refers to Morris' walks, during which she recited the names of her ancestors aloud till she knew them by heart.
At the same time she kept a meticulous record of her impressions and discoveries in her diary, from which she generated fourteen letters she sent by post to some twenty addresses in France, Belgium, the Netherlands and South-Africa.
Off by Heart and out of Breath – A Silva Rerum is a layered project that challenges the visitor to question his or her own past and position, and in which links with the present refugee crisis are never far off.
April 23-June 26 2016