A duet across the Atlantic. Exhibited in Ninguém teria acreditado / No one Would Have Believed, Pinacoteca Sao Paulo Brazil. 2021-22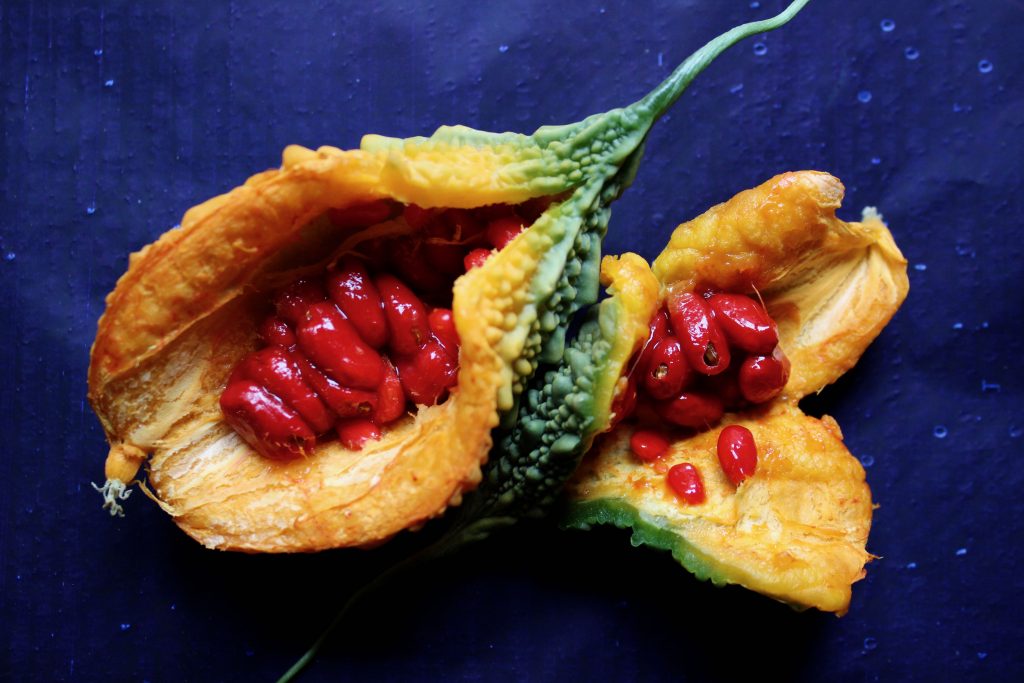 A duet across the Atlantic between two esteemed weedworts that have long histories as anti-fertility plants in West Africa and Latin America. Sorrow Seed, performed by Elisângela Rita in Luanda, is Momordica charantia, known then and now as an abortifacient, a plant taken across to Brazil by enslaved West Africans. Guiné Weed, performed by Tatí de Tatiana in Sao Paulo, is Petiveria alliacea, a plant recorded to have been used by enslaved African women to end unwanted pregnancies. Both plants have a profusion of vernacular names, attesting to their long usefulness as medicinal plants. In the duet the weedworts sing out their many names, speak of weediness and stealth, of yard plants and clandestine uses, of bitterness as a signifier, of toxicity and careful preparations.
(Weedworts is a portmanteau of weed – for weediness is a characteristic of many medicinally useful plants that thrive in the company of humans – and wort – an ancient English suffix for plants that were useful medicinally – birthwort, barrenwort, feverwort)
The work is an audio installation in the exhibition Ninguém teria acreditado / No One Would Have Believed, Pinacoteca, Sao Paulo, Dec 2021-March 2022. The audio installation is in a combination of Portuguese and English.
Song of Sorrow-Seed 
(c)Wendy Morris July 2021

My name is Bitter, my name is Pungent
My name is Short-Lived - but I live well
My name is Grow-Fast and Bide-Time
My name is Bide-Time, Grow-Fast and Short-Lived
though I have been here longer than you can remember

You barely speak of me 
and my names escape you
but, woman, I lurk in your memory
we are old companions

Root-cutters, healers and midwives
know me, know my smell, taste my bitter
where women go, I go
old world new world
I know no interruption

Senegal to Sierra Leone
Guinea-Bissau to Côte d'Ivoire
yombebute, sapodila, nania-nania
Ghana to Togo, Benin and Nigeria
atanyaran, guessikan, ejinrin
In Cameroon they grind seeds with spittle 
to a paste, a plug, a pessary
to purge unwanted fruit, and call me Miss Efficient
miracle vine, bitter melon, sorrow seed

I am a pestiferous weed
a slender vine, spreading, strong smelling
I flourish on your rubbish heaps, your parking lots, your battlefields
I gatecrash your yard 
I run amok
Strangle-Crop and Broken-Back
quickweed, bindweed, vagabond
I may be guilty by association
dubious by the company I keep
but when you need me, woman, I am here

Congo, Congo to Angola, 
limbuzi, limbuzi-buzi, lumbuzua-mbuzua
embusabusu, buzu-buzu, dimbunza, dimbussimbussi,
lemboshaboshi, lenzaa, maboumboulou, mabunbulu, 
mambuzu, mbossa-mboussi

Curandeira, midwife, mãe-de-santo 
old world new world
word of mouth

Brazil to Suriname, Guyana to Guatemala
melao de Sao Caetano
pomme de merveille, bakulu sopropo
purgative, pesticide, vermifuge
Jamaica and Haiti, Trinidad, Tobago
asosi, sorossi, ce-ra-see, sorrow seed
emmenagogue, abortifacient, contraceptive
giddy-giddy, from Antigua to Louisiana 
scarlet-seeded maiden-blush
cunde amor…cunde amor grande
erva-de-lavaderia, wash-a-woman-bush

Wandering Weedwort, pantropical vine
archaeophyte, neophyte, journey-weed
Strangle-Crop and Broken-Back
quickweed, bindweed, vagabond
I may be guilty by association
dubious by the company I keep
but when you need me, woman, I am here.

Involved:
Concept, writing, composing: Wendy Morris (South Africa), Mariske Broekmeyer / singer, composer (Belgium)
Sorrow Seed: Elisangelo Rita / poet (Angola)
Guiné Weed: Tatí de Tatiana / performer (Brazil)
Posters: Ellen Bilterest
Curators: Pinacoteca: Fernanda Pitta (Brazil) Laurens Dhaenens (Belgium)
Also: Pieternel Vermoortel (Belgium), Paula Nascimento (Angola) / curators. Rachel O'Connell / political sciences (USA), Barbara Bush / social and political studies (UK) / researchers, authors.
Funding: Pinacoteca, Flanders State of the Art, LUCA-Arts, Netwerk Aalst
The work becomes a part of the Herball for a Midwife.
---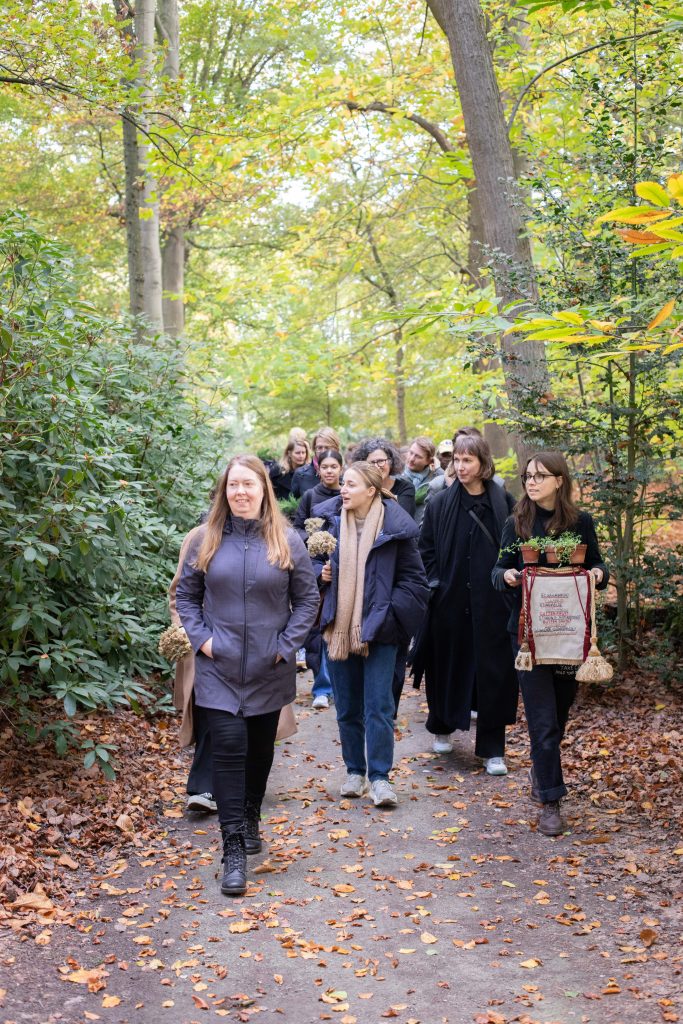 Rooted Encounters / Middelheim Museum / November 9 2022 Walking Vulvaria and Plant of the…
The audio installation, A Hysterie of Guiné Weed and Sorrow Seed, is a part of…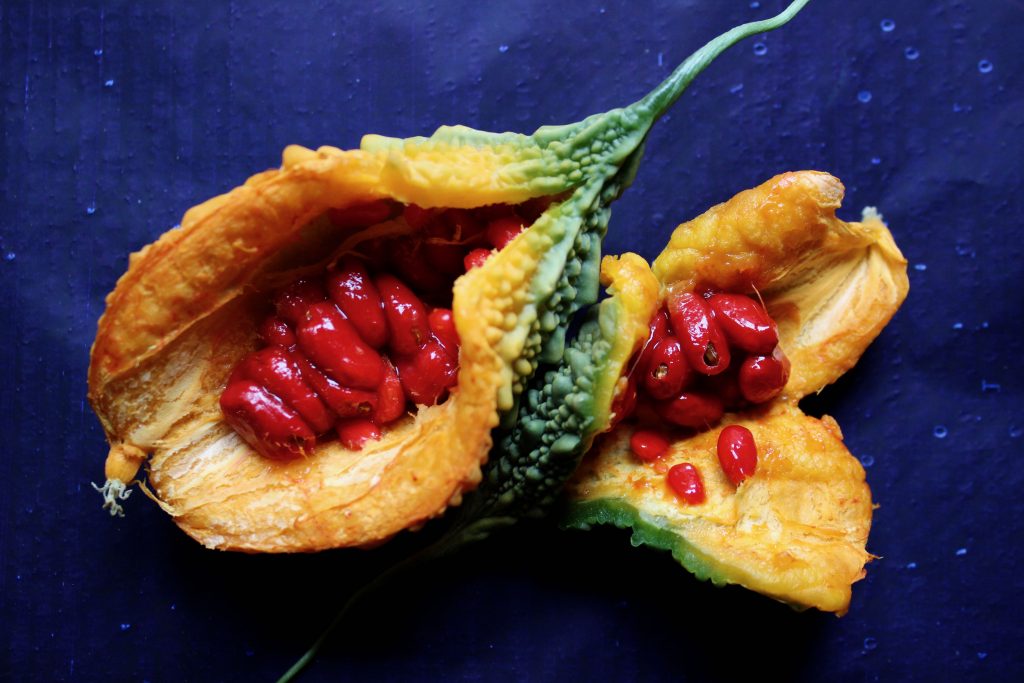 A duet across the Atlantic of two esteemed weedworts with long histories of use as…